Sirloin Steak Mushrooms and Truffle Oil
Recipe from Napa Cellars
INGREDIENTS:
3 Tablespoons Worcestershire sauce
3 Tablespoons soy sauce
1 teaspoon minced garlic
2 Tablespoons olive oil
¼ cup dry red wine
2 Tablespoons red wine vinegar
1–2 thick top sirloin steaks, about 1¾–2 pounds total
½ lb. very large fresh mushrooms (portobello or porcini)
Olive oil for brushing mushrooms
1–2 teaspoons truffle oil
1 Tablespoon fresh tarragon leaves, chopped
INSTRUCTIONS:
Mix first 6 ingredients in a flat non–reactive dish. Add the steak and turn to cover both sides well. Cover and marinate in refrigerator for several hours, turning once.
Bring meat to room temperature while you prepare a medium–hot barbecue fire. Quickly rinse and dry the mushrooms. Drain off marinade from meat and bring it to a low boil for 1 minute in a small saucepan.
Brush mushrooms generously with marinade and cook them and steak on the hot grill, brushing mushrooms with marinade 2–3 times more and turning both as needed. Mushrooms need less heat and will be cooked first; remove them and continue cooking meat until it reaches desired doneness. Remove steak from heat and let it rest with mushrooms in a warm place for several minutes.
Cut the mushrooms in large pieces (quarters if possible) and pile them irregularly on individual warm plates. Slice meat about / inch thick and arrange beside the mushrooms. Drizzle all with accumulated cooking juices and truffle oil; sprinkle with chopped tarragon. Pass sauce separately
Pairs With: Napa Cellars Pinot Noir 750ml, Noble Vines Marquis Red Blend 750ml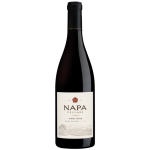 Sirloin Steak Mushrooms and Truffle Oil
With more than 40 years of winemaking heritage in California's most fabled wine region, Napa Cellars embodies the classic, unmistakable style of Napa Valley. Veteran winemaker Joe Shirley crafts our wines from estate vineyards and coveted partner sites throughout Napa's most revered sub-appellations. Meticulous care in the vineyard, coupled with gentle winemaking techniques, ensures our wines reflect the quality and richness of Napa Valley's terroir.
Pairs With: Sirloin Steak Mushrooms and Truffle Oil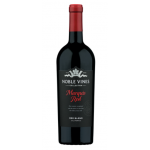 Sirloin Steak Mushrooms and Truffle Oil
Behind the name Marquis Red is a noble legacy. Prized for centuries, certain vine stocks originating from renowned vineyards of France have proven their excellence over time. With our Noble Vines Collection, we take the best of these noble vine stocks and cultivate them in California to craft wines of substance and character, such as this Marquis Red.
Pairs With: Sirloin Steak Mushrooms and Truffle Oil