Carpaccio is a dish of meat or fish thinly sliced or pounded thin, and served raw, typically as an appetizer. Scallop carpaccio is a marvellous melt-in-the-mouth slivers of a whiter than white mollusc, drizzled with French olive oil and lemon juice, scattered with spring onion and poppyseed.
Thepassionatecook
Pairs With: William Fèvre Chablis Champs Royaux 2018 750ml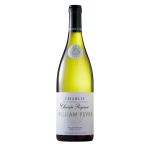 Very fresh bouquet with notes of citrus and whitefleshed fruit, with a very slightly oaky finish. Fresh and supple, the wine is marked by mineral notes that are typical of the appellation.
Pairs With: Scallop Carpaccio