Leek soup (Welsh: cawl cennin) is a soup based on potatoes, leeks, broth[1] (usually chicken), and heavy cream.[2] Other ingredients used may be salt, pepper, and various spices. Generally the potatoes are diced and cooked in broth, while the leeks are chopped and sautéed. After this, all ingredients are combined and stirred.
Wikipedia
Pairs With: Schramsberg Blanc de Blancs Brut 2017 750ml, Domaine Mann Fly Me to the Moon Pinot Blanc 2018 750ml – Organic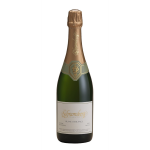 The Schramsberg style of Blanc de Blancs is dry and crisp. Small lots of barrel fermented wines, some of which complete malolactic fermentation, are added to the stainless-steel fermented wines to create added complexity in the blended base wine. After undergoing a second fermentation in bottle, the wine then ages on its yeast lees for about two years prior to disgorgement. With its vibrant, fruitful and focused nature, this sparkling wine will maintain its freshness, structure and refined...
Pairs With: Potato and Leek Soup, Crostini with Albacore Tuna Tapenade
Pairs With: Quiche, Potato and Leek Soup