A dish of beaten eggs cooked in a frying pan until firm, often with a filling added while cooking, and usually served folded over.
Pairs With: Cantina Frentana Terre Valse Pinot Grigio 750ml- Organic, Kris Pinot Grigio 750ml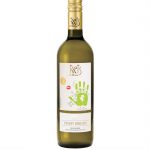 Ironically, "grigio" means "gray" in Italian, which couldn't be further from the truth in the case of KRIS, which is bursting with colorful aromas and flavors developed in high vineyards of the Veneto region. With enticing aromas of acacia flowers, lime, tangerine and hints of apricots and almonds, KRIS Pinot Grigio is bold but clean and refreshing on the palate, and offers a long finish tinged with orange blossom and honey.
Pairs With: Salmon, Omelet