Solid chocolate made with the addition of milk.
Pairs With: Chocolate Shop Chocolate Red Wine 750ml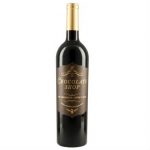 Sweetening the tongues for centuries, chocolate and red wine has been the most reliable pairing in history. Chocolate Shop takes this pairing to the next level, marrying chocolate flavor with red wine to create a sumptuous drink. We start with a proprietary red blend of the finest vinifera varietals, add a touch of oak and a kiss of sweetness to create the perfect fruit-driven foil for the rich dark chocolate which unfolds in silken layers across the palate.Serve at room temperature or slightly...
Pairs With: Dark Chocolate Mousse with Fresh Berries, Dark Chocolate Soufflé, Milk Chocolate