Crab meat or crabmeat is the meat found within a crab. It is used in many cuisines across the world, prized for its soft, delicate, sweet taste.
Pairs With: Juliette Rose 2014 750ml, Chateau Souverain Chardonnay 750ml, Private: Chateau Ste. Michelle Columbia Valley Chardonnay 2016 750ml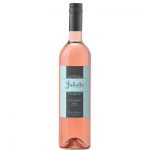 Juliette comes from the Provence region of Southern France, home of the most exquisite and traditional rosé wines in the world. Produced at the maison of Domaine de La Sanglière, Juliette is a true expression of a traditional Provençal rosé wine.
Pairs With: Crab, Bouillabaisse