a sweet or savory dish made as a smooth light mass with whipped cream and beaten egg white, flavored with chocolate, fish, etc., and typically served chilled.
Pairs With: Stags Leap Petite Sirah 750ml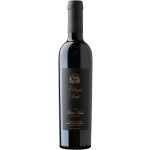 A recent addition to the Stags' Leap collection, this wine harkens back to a time when Petite Sirah was predominantly used in California as a port grape. In this case, Winemaker Christophe Paubert took a lot of estate-grown Petite Sirah and during mid-fermentation fortified it with aged grape spirit thus rendering the yeast neutral and preserving the residual sugar. A perfect pairing with chocolate desserts and pungent cheeses like blue cheese.
Pairs With: Chocolate Mousse