Chocolate cake is a cake flavored with melted chocolate and/or cocoa powder.
Pairs With: Cockburn's Fine Ruby Port 750ml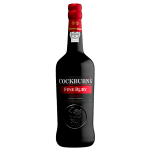 WINEMAKINGWe blend several young wines from a few different years to give our Fine Ruby the richness and the fresh fruit that you would expect of a zesty young Port. It is then matured for a few years in large vats, which gives it both its lovely softness and its ripe red fruits flavours. It also keeps the intense, deep purple colour of a nice and bright young Port.
Pairs With: Chocolate Cake, Black Forest Cake