Vegetables (carrots, potatoes, onions, beans, peppers, tomatoes, etc.), meat (tougher meats such as beef), water or stock or wine or beer. Cookbook: Stew Media:Stew. A stew is a combination of solid food ingredients that have been cooked in liquid and served in the resultant gravy. - Wikipedia
Pairs With: Parducci Small Batch Cabernet Sauvignon 2014 750ml, Bouchard Aine & Fils Bourgogne Pinot Noir 2019 750ml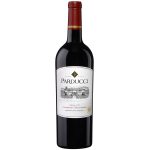 Vintage: 2014Varietal: Cabernet SauvignonAppellation: Mendocino CountyAcid: 0.57 g/100 mLpH: 3.6Aging: Aged 22 months in 25% new French oak.Alcohol %: 13.5Vineyard Notes: Mendocino County vineyards.Production Notes: Vegan wine.Food Pairing Ideas: Filet Mignon with Balsamic Glaze, Mushroom Blue Cheese Burgers, or Slow Cooker Beef Stew.
Pairs With: Blue Cheese Burger, Beef Stew
2019 was a unique and very changeable year. It brought its own stresses for a great many producers, while harvesting passed without a hitch. The end result has inspired enthusiasm amongst winemakers, surpassing expectations. The weather was hot and dry, but the wines are promising a freshness that willdelight fans of Bourgogne wines, with an indulgent side to boot. Since the start of the 20th century, every vintage that has ended with a "9" has been wonderful. The only downside to this...
Pairs With: Camembert, Beef Stew, Roasted duck – "coq au vin"