Angel Hair Pasta with Scallops
Pairs With: Bota Box Chardonnay 1.5L,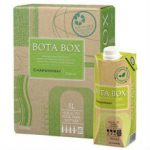 Angel Hair Pasta with Scallops
It's a big, beautiful world out there. And you've got big, beautiful experiences ahead. Thanks for bringing us along. Nothing beats drinking in the essence of this thing called life. Bota is the perfect wine for your next little adventure. We work hard to make sure Bota offers the perfect wine for any occasion, and we're proud to offer award-winning, vintage-dated varietals. Whether you're relaxing poolside, tableside or mountainside, we have a wine for you. Here's to your next...
Pairs With: Angel Hair Pasta with Scallops
Pairs With: Angel Hair Pasta with Scallops