A tian is a Provençal dish made of egg and vegetables that is ideal for summer picnics. It takes its name from the shallow terracotta dish it is traditionally cooked in. I use a cast iron skillet instead. The basic mix of vegetables is greens, herbs and potato; use what is cropping. You can add flavour with olives, capers, anchovies, a thickish tomato sauce and switch courgettes for spinach or chard, for instance.
Gardenillustrated
Pairs With: Agricola Querciabella Mongrana 2018 750ml – Organic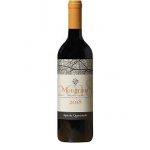 The grapes of Sangiovese, Merlot and Cabernet Sauvignon are harvested at the peak of phenolic maturation, each variety being treated individually up to the final blend. Following gentle fermentation management, the wine undergoes élevage in cement vats for at least 10 months, until it is ready to be blended and bottled. No animal products or byproducts are used in the production of this wine, making it suitable for vegans and vegetarians.
Pairs With: Panzanella Salad, Zucchini Tian