In Thailand, curry is usually a soupy dish consisting of coconut milk or water, curry paste and meat. Thai curries tend to be more soup-like compared to their thicker Indian cousins. Curries are the richest dish of Thai cuisine, being based on spicy herb and spice pastes, i.e. curry pastes. There are dozens of different types of curries in Thailand varying by the use of various types of curry pastes, the addition of coconut or water and different combinations of meats, herbs, vegetables and fruits.
TempleofThai
Pairs With: Dautel Steingruben 2017 750ml – Organic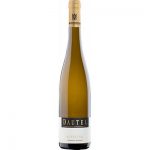 For this bottling Christian Dautel has access to a small south facing parcel of the oldest vines of Grand Cru site Steingruben. The terrain here is reed sandstone with a 50 degree slope and is known for creating wines with great power and vitality with the ageability those qualities come with. There is also a very low amount of lime in the soil which helps the wine remain elegant depsite the warmth of the microclimate. Vines are tended with practicing organic practices. After a careful whole...
Pairs With: Chicken Piccata, Thai Curry with Seafood