A narrow cut of beef containing the ends of the ribs near the breastbone.
Pairs With: Predator Old Vine Zinfandel 2017 750ml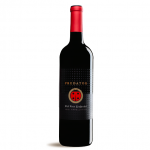 Lodi, California is ideally situated between the Sierra Foothills and the San Francisco Bay Delta and benefits from cool afternoon and evening breezes, producing world-renowned Zinfandel. The mature vineyards produce a powerfully rich and flavorful Old Vine Zinfandel. Our sustainable way of grape growing ensures the health and vitality of the land. "Natural Predation" is an eco-friendly strategy to control harmful critters in the vineyards. Ladybugs, a natural insect predator, along...
Pairs With: Hamburger, Short Ribs