Roast beef is a traditional English dish of beef which is roasted. Essentially prepared as a main meal, the leftovers are often used in sandwiches and sometimes are used to make hash. -
Wikipedia
Pairs With: Santa Sofia Montegradella Valpolicella Classico Superiore 750ml, Millbrook Cabernet Franc 750ml
Food Pairing: An ideal match for rich and succulent dishes such as braised or stewed meat, roast beef or poached fillet. It is also excellent with cheese in varying degrees of ripeness, such as mature Monte Veronese and 3-year-old Bitto.
Pairs With: Roast Beef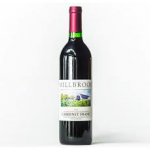 Established in 1982 on a former dairy farm in New York's Hudson River Valley, Millbrook Vineyards & Winery produces a range of high-quality wines that includes Cabernet Franc, Chardonnay, Pinot Noir, Riesling, and Tocai Friulano. Guests are welcome for daily tastings in the restored Dutch barn, and guided tours are offered on weekends. A Millbrook native, John Dyson developed an appreciation for wine while attending Cornell's College of Agriculture. Never keen on beer, he...
Pairs With: Roast Beef