The terrine, as a cooking vessel, is a deep, rectangular, straight-sided dish - usually ceramic, glass or cast iron - with a tight-fitting lid. In traditional cooking, the terrine dish often would be made in the shape of an animal, usually depicting the contents of the terrine. The food is constructed in loaf-shaped layers of either meat or fish, and can sometimes actually contain vegetables which are served cold either in the terrine it was cooked in or sliced. The beauty of creating terrines are their ability to be anything from a simple, rustic affair of modest meats, through to elaborate haute-cuisine of game, foie gras, and truffles. The limitation is only in the imagination of the cook.
Spruceats
Pairs With: Domaine des Billards Saint-Amour 2019 750ml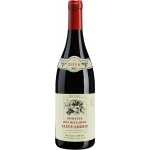 Domaine des Billards has belonged to the Barbet and Teissier families since the 18th century. In the old parchment purchase book, you can still see some of the high-society names of that era. 1774: sale of 10 items to the Marquis de Turgot, Finance Minister to Louis XVI. 1781: 2 red wine items to the Comte de Choiseul.
Pairs With: Ratatouille, Chicken Tarragon, Rabbit Terrine