Italian ham cured by drying and typically served in very thin slices.
Pairs With: 90 + Cellars Lot 42 Pinot Grigio 750ml, Ruinart Brut Rose 750ml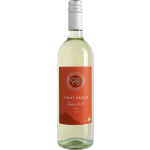 When grown with care in the right climate and soil, Pinot Grigio transforms itself into a delicate, crisp and vibrant wine. Harvested by hand from vineyards at the base of the Dolomite mountains where cool Alpine air lengthens the ripening season, fully developing aromas and preserving acidity. Fermentation occurs at controlled temperatures in stainless steel. The finished wine is bottled after 4-6 months in tank.
Pairs With: Pasta Primavera, Prosciutto
The history of Ruinart rosé, the very first rosé champagne to make its appearance, dates back to the 18th century. While Ruinart rosé champagne first appeared over 250 years ago, its excellent quality remains the essential feature of the production of this delicate wine to this day.
Pairs With: Prosciutto