Peking Duck with Soy Sauce
Peking Duck is a Chinese dish consisting of strips of roast duck served with shredded vegetables and a sweet sauce. The meat is characterized by its thin, crisp skin, with authentic versions of the dish serving mostly the skin and little meat, sliced in front of the diners by the cook.
Wikipedia
Pairs With: Nicolas Feuillatte Brut 750ml, Yohan Lardy Moulin-à-Vent Vieilles Vignes de 1903 2017 750ml – Organic
Peking Duck with Soy Sauce
The success of Champagne Nicolas Feuillatte is synonymous with the legacy of visionary men. Its history is inextricably linked to the meeting of two men in particular: Nicolas Feuillatte, founder of the eponymous Champagne brand and intrepid businessman, and Henri Macquart, the founding father of the Champagne cooperative, Centre Vinicole de la Champagne. Swiftly backed by a handful of willing supporters, they soon succeed in their mission to make drinking quality Champagne a reality for as...
Pairs With: Chicken and Vegetable Skewers, Oyster Gratin, Peking Duck with Soy Sauce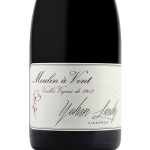 Peking Duck with Soy Sauce
After several trips abroad which allowed me to learn a lot, I realized to what extent my region of origin, Beaujolais, was "in gold" ... I naturally returned to my roots. I took over a few hectares of old vines, plots planted in 1911 and 1950, on the heights of the Cru Moulin a Vent, in the prestigious "Les Michelons" climate. The roots dig into shallow, lean soil composed of crumbly pink granite rich in manganese. I harvest all my grapes by hand and vinify all in whole bunches...
Pairs With: Peking Duck with Soy Sauce