Panzanella or panmolle is a Tuscan chopped salad of soaked stale bread, onions and tomatoes that is popular in the summer. It often includes cucumbers, sometimes basil and is dressed with olive oil and vinegar. It is also popular in other parts of central Italy.
Wikipedia
Pairs With: Agricola Querciabella Mongrana 2018 750ml – Organic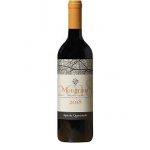 The grapes of Sangiovese, Merlot and Cabernet Sauvignon are harvested at the peak of phenolic maturation, each variety being treated individually up to the final blend. Following gentle fermentation management, the wine undergoes élevage in cement vats for at least 10 months, until it is ready to be blended and bottled. No animal products or byproducts are used in the production of this wine, making it suitable for vegans and vegetarians.
Pairs With: Panzanella Salad, Zucchini Tian