Ice cream made with onions and sometimes also with Balsamic vinegar.
Pairs With: Navardia Rosado 750ml – Organic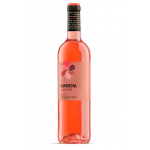 Food with strong character which allow this wine to express its joy, niceness, and lightness typical of the red Grenache variety. Fruity and fresh it pairs perfectly with not too processed products, pasta, mild cheese, and some seafood, and this way the fruit will be favoured along with the vegetal notes. We suggest: "Red tuna fish Carpaccio with tomatoes in a Pedro Ximénez sauce" and "Onion ice cream".
Pairs With: Red tuna fish Carpaccio, Onion Ice Cream