Ground or chopped meat, usually beef, with added seasonings, molded into the shape of a loaf and baked.
Pairs With: 90+ Cellars Lot 162 Cotes du Rhone 2018 750ml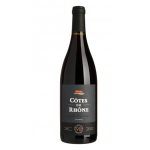 This Cotes du Rhone comes from select vineyard plots scattered about France's Southern Rhone Valley. In this dry, mediterranean climate, the roots of Grenache and Syrah vines dig deeply into the valley's soils of limestone and clay in search of water and nutrients. In autumn, the grapes are harvested by hand, destemmed and fermented under cooler temps to preserve the wine's fresh and savory fruit character.
Pairs With: Barbecue Chicken, Meatloaf