An Italian dish enjoyed as an appetiser, Cured Kingfish carpaccio is a dish made of thinly sliced fish served raw. There is a variety of carpaccio options to choose from as you can use raw beef, tuna, or even vegetables. You can just take the carpaccio and make it your own.
Almondine Fig
Pairs With: Petit Bourgeois Sauvignon Vin de Pays du Jardin 2019 750ml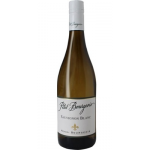 A great way to judge any wine producer is to taste its introductory cuvée, and this wine, Petit Bourgeois, is theirs. It serves as their invitation to explore France's Loire Valley, a region they call home and the place where their family has crafted wine for ten uninterrupted generations. They hope you will enjoy this refreshing, food-friendly Sauvignon Blanc as much as they enjoyed producing it.
Pairs With: Kingfish Carpaccio