Hare à la royale (also called lièvre à la royale or royal hare) is a traditional French culinary dish.[3][4] There are two interpretations of this dish that both have historic origins. One is a hare in a stew with garlic and shallots that includes red wine. The other includes meat stuffed with foie gras and truffles serves in slices and topped with red wine.
Wikipedia
"Game in general, and especially hare, is the kind of meat that pairs ideally with the Cornas wine made by Mr Voge."
Pairs With: Alain Voge Les Vieilles Vignes Cornas 2017 750ml – Organic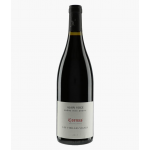 • Organic certification for the vines and wine from the 2016 vintage and biodynamic methods used. • Syrah vines trained and pruned in the Gobelet style and supported by stakes. • Hand-picked harvests. • Partial destemming with 20 % whole grapes. • Fermentation with natural yeasts and maceration for several weeks in stainless steel vats, with cap-punching and pumping-over done twice a day. • Maturation in 228-litre barrels for 20 months, with 15 to 20% new...
Pairs With: Hare à la Royale