Halibut Steak in Lemon Butter
Halibut is the common name for two flatfish in the genus Hippoglossus from the family of right-eye flounders and, in some regions, and less commonly, other species of large flatfish.
Wikipedia
Pairs With: Petit Bourgeois Sauvignon Vin de Pays du Jardin 2019 750ml, Rock Point Pinot Gris 750ml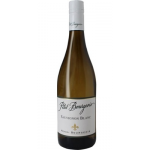 Halibut Steak in Lemon Butter
A great way to judge any wine producer is to taste its introductory cuvée, and this wine, Petit Bourgeois, is theirs. It serves as their invitation to explore France's Loire Valley, a region they call home and the place where their family has crafted wine for ten uninterrupted generations. They hope you will enjoy this refreshing, food-friendly Sauvignon Blanc as much as they enjoyed producing it.
Pairs With: Halibut Steak in Lemon Butter, Kingfish Carpaccio
Halibut Steak in Lemon Butter
Pairs With: Fruit Salad, Halibut Steak in Lemon Butter