Salad with goat cheese topping.
Pairs With: Grgich Hills Estate Fume Blanc Napa Valley 2013 750ml – Organic, 90+ Cellars Lot 126 Sancerre 2019 750ml
Our Sauvignon Blanc grapes come from our American Canyon and Carneros vineyards in the southern tip of Napa Valley, near San Francisco Bay. The clay soils retain water, allowing us to dry farm and the coolness slows ripening and retains acidity, so the grapes develop a crisp liveliness that is impossible to achieve in warmer areas. About 80% of our Sauvignon Blanc is planted to the Musqué clone, which provides. elegant floral aromatics. We farm all of our vineyards naturally, without...
Pairs With: Goat Cheese Salad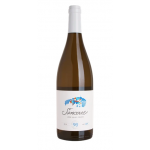 From the lofty Piton, or hilltop, of Sancerre, ancient soils of limestone and silex cascade toward the western bank of Loire River. This distinct soil, perched on a base of Kimmeridgian marl, is why Sauvignon Blanc from Sancerre has found its way onto the world's top restaurant wine lists. This is a wine with an aristocratic heritage and a welcoming character.
Pairs With: Goat Cheese Salad