Duck Leg Salmi with Bilberries
Salmi is a preparation from classical French cooking. When a roast or sautéed piece of meat is sliced and reheated in sauce, the result is a salmis. Typical salmis preparations involve roasted game birds such as squab or duck.
Wikipedia
Bilberries are smaller and darker than blueberries, appearing to be almost black with a hint of blue. They are dark inside too, whereas blueberries have a pale green flesh. ... Bilberries are more intensely flavoured than blueberries, but they are softer and juicier than blueberries making them difficult to transport.
Swedishfood
Pairs With: Mercurey Premier Cru Clos du Roi 750ml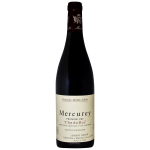 Duck Leg Salmi with Bilberries
Color : Red Grape variety : Pinot Noir Dates of plantation : 1972, 1980, 1995 Soil : clayey-limestone, marl clear gravel and pebbles clear on surface Aspect : South - South West Altitude : 277 meters Annual production : 900 bottles
Pairs With: Duck Leg Salmi with Bilberries