Beef that has been marinated and grilled, typically served sliced in thin strips as a main course or as a filling in tacos, burritos, etc.
Wikipedia
Pairs With: Highlands 41 Estate Reserve 'Darkness' Red 750ml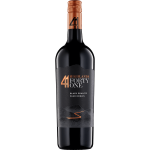 At Highlands 41, we believe the best wines are made in the vineyards. Our wines are crafted from 100% estate-owned fruit grown in the heart of Paso Robles. With this amazing fruit, our winemaking focus is the purest expression of Paso Robles.
Pairs With: Vegetable Lasagna, Carne Asada Tacos, Grilled Tuna