Pairs With: Miguel Torres Las Mulas Reserva Sauvignon Blanc 750ml, Domaine Chandon Library Dosage Classic Brut 750ml
Chickens and geese roam freely through the vineyards, but our most prominent animal is Rufina, our faithful companion: the mule. She helps us achieve a better balance with nature and accompanies us on walks through the steep Andean peaks.
Pairs With: Shrimp, Calamari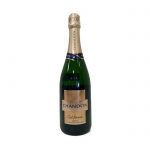 CHANDON is a global community of winemakers, rooted in a domain on which the sun never sets. They have been crafting exceptional sparkling wines since our founding in 1959 in Mendoza, Argentina. In 60 years of excellence, the pioneering spirit that's embedded in their DNA has taken them all over the globe to California, Brazil, Australia, China, and India. CHANDON is now made up of six personalities under one identity, all making outstanding quality wines, united by their shared...
Pairs With: Oysters, Calamari