Brillat-Savarin is a soft-ripened triple cream cow's milk cheese with at least 72% fat in dry matter (roughly 40% overall).
Wikipedia
Pairs With: Parize Givry 1er Cru Champs Nalot 2018 750ml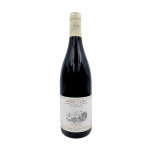 The Parize family have been making wine in Givry for six generations. Over the years many parcels have been replanted and the current incumbent, Laurent continues to do the same and the estate now covers 9 hectares. Both Chardonnay and Pinot Noir are planted, depending on aspect and soil, seven hectares to Pinot Noir, and two to Chardonnay. The estate first started to bottle its own wines in 1975, and from one hundred bottles a year, it now bottles over 4,000 cases. The estate has won many...
Pairs With: Eggs en Meurette, Brillat-Savarin, Wild Mushroom and Lentil Bourguignon