A kind of soft, mild, creamy cheese with a firm white skin.
Pairs With: Freixenet Cava Blanc de Blancs 750ml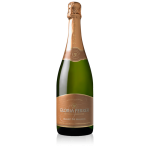 Made exclusively from hand-harvested Chardonnay, our Blanc de Blancs is the superb result of meticulous grape growing, artisanal cellar practices and our winemaker's considerable blending skills. Blanc de Blancs is prized among sparkling wine connoisseurs for the rich textural qualities, complex aromas and flavors, elegance and solid aging potential that Chardonnay offers.
Pairs With: Baked Halibut, Brie