Bresse Chicken With Cream
Bresse Chicken is an AOC regulated chicken production area. In 1936 the Bresse chicken farmers got their famous AOC label, or Appellation d'origine contrôlée, most commonly awarded to French wines and cheeses; It is the highest honor of food production in France. In fact, they are the only chicken to be awarded their own AOC! Their upbringing and feeding are carefully controlled, meeting extremely strict standards.
Parisperfect
Pairs With: Cave de Lugny Mâcon-Lugny Les Charmes 2018 750ml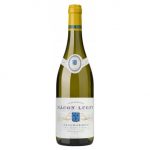 Bresse Chicken With Cream
The Mâcon Lugny locality "Les Charmes" is the flagship of the production of the Cave de Lugny and the pride of its winegrowers. The harvest comes exclusively from a specific locality in the town of Lugny which takes the form of a 105 ha plateau predominantly clay-limestone. The south / south-east orientation allows it to benefit from optimum sunshine. The average age of the vines is over 40 years, with the particularity that it is partly composed of so-called "musky" Chardonnay plants which...
Pairs With: Bresse Chicken With Cream