Pairs With: Ruinart Brut Rose 750ml, Taylor Fladgate Fine Tawny Port 750ml
The history of Ruinart rosé, the very first rosé champagne to make its appearance, dates back to the 18th century. While Ruinart rosé champagne first appeared over 250 years ago, its excellent quality remains the essential feature of the production of this delicate wine to this day.
Pairs With: Prosciutto, Berry Soup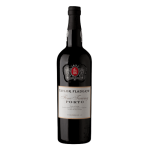 Taylor Fladgate's Fine Tawny is drawn from wines selected for their smoothness and mellow character. These are aged for up to three years in oak casks in Taylor Fladgate's cellars in Vila Nova de Gaia. The individual wines are then blended together a few months before bottling for balance and completeness.
Pairs With: Blue Cheese, Berry Soup