Beef Tenderloin with Blackberry Dressing
Pairs With: Kenwood Vineyard Sonoma County Cabernet Sauvignon 750ml, Hess Collection Allomi Napa Valley Pinot Noir 2019 750ml
Beef Tenderloin with Blackberry Dressing
Kenwood Vineyards' Sonoma County Cabernet Sauvignon is primarily sourced from vineyards located in the Sonoma, Alexander and Dry Creek Valleys. The 2014 vintage had near perfect growing conditions: a mild and early spring, and a dry summer characterized by foggy mornings and cool afternoons. This weather pattern preserved the natural acidity in the Cabernet as the crops approached maturity in late September and early October. Each vineyard was harvested as it reached the peak of ripeness and...
Pairs With: Mushroom Risotto, Beef Tenderloin with Blackberry Dressing, Waygu Beef Sashimi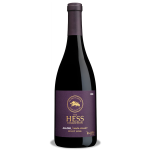 Beef Tenderloin with Blackberry Dressing
"In this vintage, we had a rare opportunity to offer a reflection of Sonoma County, and in clearer focus, the Sonoma Coast, in a blend that features select lots from several vineyards. An array of Pinot Noir clones lead to a beautiful wine with aromas of fresh berries, smoky notes and earth tones on this classic Sonoma Coast blend. The wine is complex with layers of red fruits – specifically dried cherries and raspberries that are supported by beautiful acidity and silky tannins. A hint of...
Pairs With: Beef Tenderloin with Blackberry Dressing