Tube shaped pasta shells stuffed with beef usually served with tomato sauce.
Pairs With: Ruffino Modus Rosso Toscana 750ml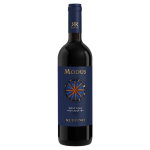 The Super Tuscan Modus, the Latin word for 'method', is Ruffino's contemporary way of expressing Tuscany with a blend of three noble grape varieties. First introduced in 1997, Modus routinely garners exceptional acclaim from the top wine critics worldwide. Sangiovese is the core of Modus, providing refined texture along with cherry and red berry aromas. The Merlot offers smoothness enriched by blackberry fruit and delicate notes of mint, while the Cabernet Sauvignon lends structure, and also...
Pairs With: Beef Stuffed Manicotti, Taleggio